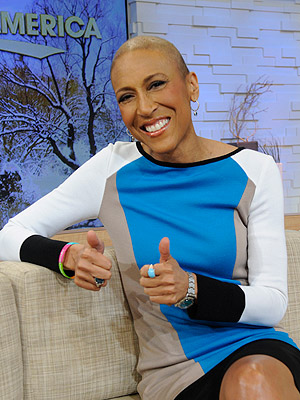 Good Morning America announced Thursday that co-anchor Robin Roberts will return to the show on Wednesday, Feb. 20.
Roberts, 52, took medical leave following a successful bone-marrow transplant in September 2012 to treat myelodysplastic syndrome, a rare blood disorder.
After a "dry run" at work in January, Roberts was given the go signal from her doctors to return to work later this month.
"What a difference a year makes," Roberts said. "I cannot wait to return to my GMA family. It's going to be an incredible morning in Times Square. The overwhelming thoughts and prayers of the viewers have played a major part in getting me here today. I cannot thank everyone enough."
She later took to Twitter to muse about her comeback before adding: "Heading to the beach to rest, reflect & count my blessings. XO"
Also On AM 1310: The Light:
12 photos
Launch gallery
1. Carry on.
Source:Instagram
1 of 12
2. The truth sha'll set you free.
Source:Instagram
2 of 12
3. That is all.
Source:Instagram
3 of 12
4. We need more than two days notice, Bey.
Source:Instagram
4 of 12
5. We need money for the tour
Source:Instagram
5 of 12
6. #Beyonce is life! 💫✨☄
Source:Instagram
6 of 12
7. Truth be told…
Source:Instagram
7 of 12
8. #formation #yonce #beyonce #slay
Source:Instagram
8 of 12
9. Pay day is next week.
Source:Instagram
9 of 12
10. Push through Uncle Sam
Source:Instagram
10 of 12
11. Praise him
Source:Instagram
11 of 12
12. Grabs hair bonnet, we're going to be up all night.
Source:Instagram
12 of 12